Does Raw Turkey for Dogs have Tryptophan in it?
Most people are familiar with the notion that turkey contains tryptophan. However, not many understand what tryptophan is – it is an amino acid with sleep-inducing properties. Reports also suggest that it may have cancer-preventing benefits and can even work to enhance your mood. Though there is a common myth that eating too much turkey makes you sleepy, this is likely due to overeating rather than the actual amount of tryptophan in the food. So if your pup conks out after they have a big meal, it's probably because they enjoyed it too much!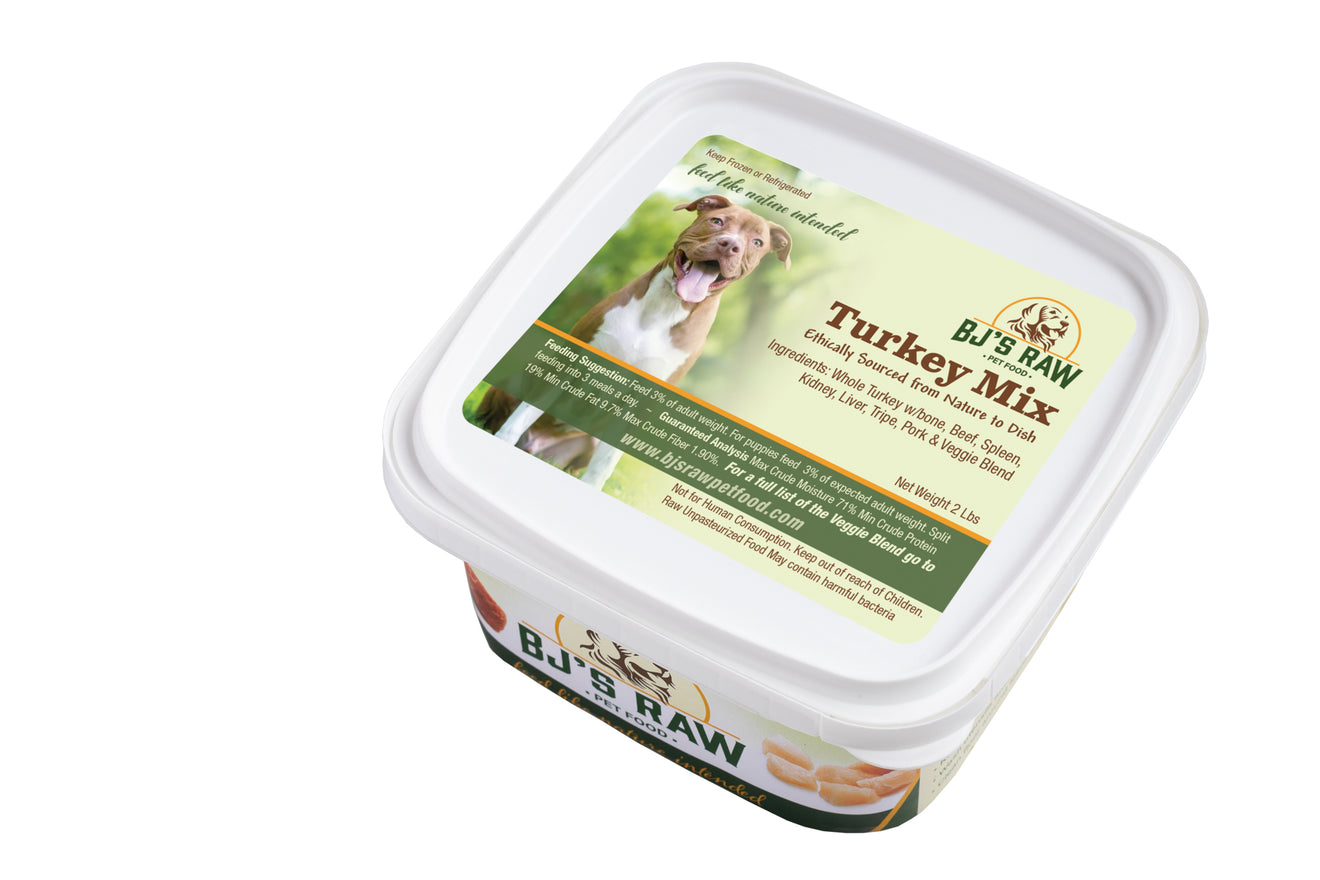 At BJ's
We understand that including turkey in your dog's diet is beneficial and important. That's why we offer the Turkey Mix, Ground Turkey, Turkey Necks, and Whole Turkey options to ensure that you can provide your pet with a variety of high-quality proteins. For maximum nutrition, we suggest alternating between these different types of turkey products and supplementing your pup's meals with Fresh Goat Milk from grass-fed goats for an added health boost. Together, these items make up a complete and balanced meal for your beloved four-legged friend!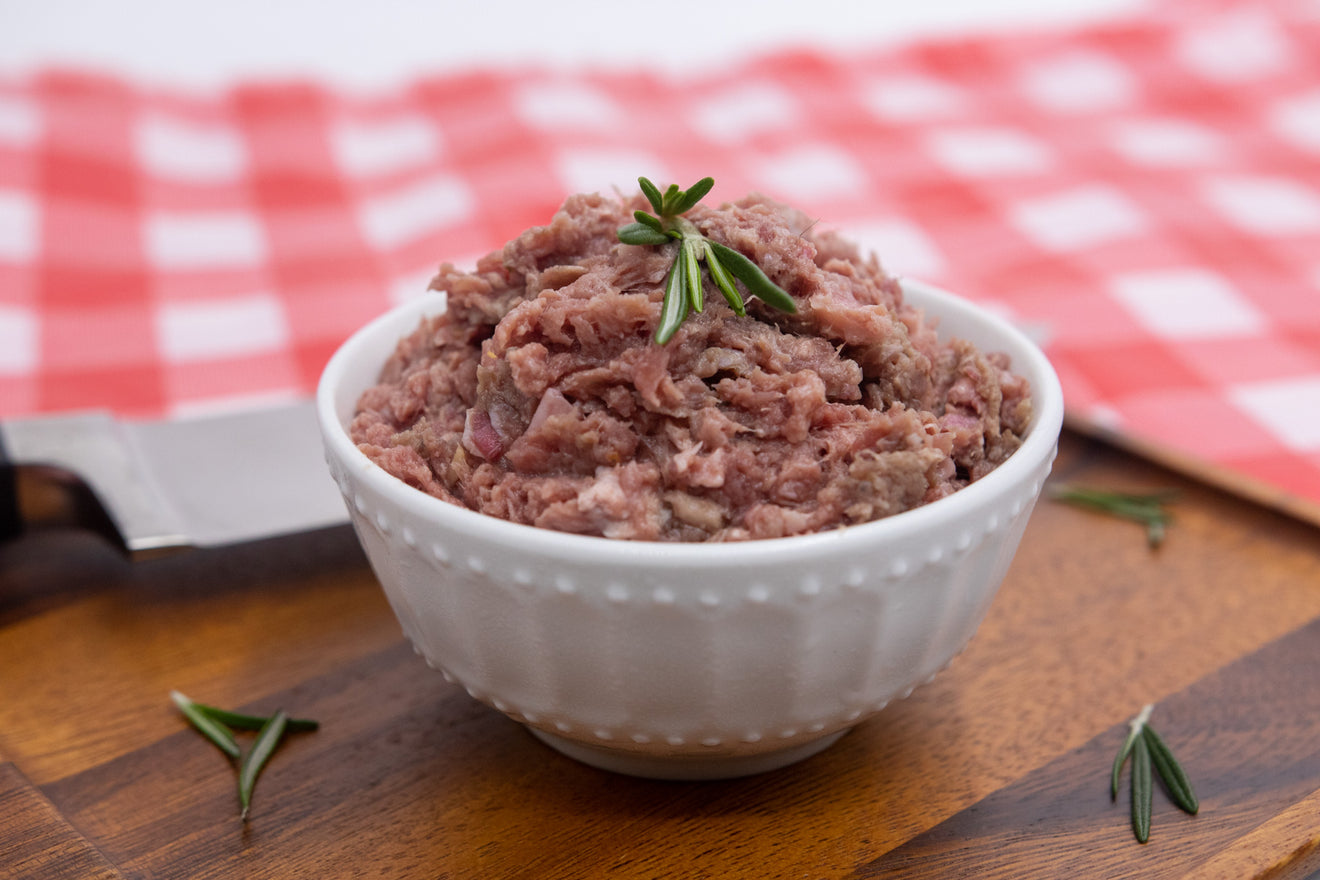 Learn How Much to Feed
Feeding raw dog food can be a little overwhelming at first. Where do you start? As you probably guess, what to feed and how much depends on the dog. We created a Feeding Calculator to make this much easier. In additions to learning how much to raw dog food to feed, you will receive helpful meal suggestions with coupons.
How Much Should Your Dog Weigh at its Current Age?
What stage of life is your dog?
Testimonials
Be your dog's hero and start them on raw dog food.
My toy poodle has digestive upset, ranging from stomach stagnation to liver sludge, acid reflux and every once in a while pancreas attack. Part if his healing protocol is to feed a raw diet, no veggies and gently cooked in a crock pot. He has gone from 5.8 pounds to 7.2 pounds in 2months. He has been sick for 7 months and this is the best step forward we have achieved to date. I will be slowly introducing him to the beef next and will start rotating proteins as we continue on this path.
Judy Laffoon
Turkey Blend
My Pomeranian is flourishing on this raw diet. We have been using bjsrawpetfood for over 2 years now and have had nothing but great product and service. We use the autoship and packaging is the best. If you don't know about the benefits of a raw diet for dogs and cats, read my previous reviews. It can't be just raw, it needs to be premium and BJs is the way to go.
Alison Nadeau
Terrific Turkey Blend
My pit bull puppy is allergic to seemingly everything. After some food trials, we found out it was the synthetic additives in kibble. We were referred to BJ's from a friend who gets it for her dog. He went from itching and scratching constantly and having abnormal bowl movements–even on prescription food–to having healthy skin and normal bowls. His fur is shinier and softer, he has more energy and he's more food motivated. Best of all, no more food allergy symptoms. THANK YOU for making this wonderful product with wholesome ingredients. You made one happy pittie (and pittie mama!) BTW he goes bananas over this blend! He loves the taste.
Nicole Paoline
Ordered Turkey Blend